Who is online?
In total there are
2
users online :: 0 Registered, 0 Hidden and 2 Guests
None
Most users ever online was
253
on Sat Apr 10, 2021 3:06 am
Social bookmarking


Bookmark and share the address of Tea at Trianon Forum on your social bookmarking website
Banner art courtesy of
The Graphics Fairy
.
I am learning so much from this series.

_________________
Because I really did not spy, it is terrible that I cannot defend myself.
Thank you, Mata Hari! It is wonderful to be able to share all this with people like you.
König Leopold III.  & Königin Astrid von Belgien, King and Queen of Belgium
by
Miss Mertens
, on Flickr
Leopold and Astrid in church.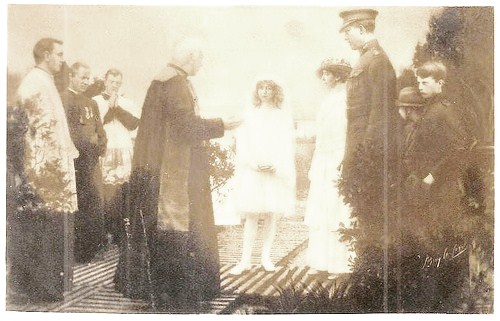 First Communions of Princess Marie-José (above) and Princess Marie-Christine (below).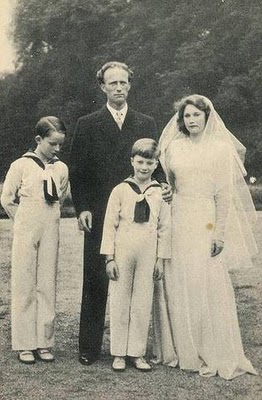 Confirmation of Princess Joséphine-Charlotte, and another one of Marie-Christine. I am not sure why Leopold and Lilian had Fulton Sheen, rather than a Belgian bishop, come to do the Confirmation/First Communions of their two daughters, M-C and Esmeralda. But I know that Leopold intensely disliked the then primate of Belgium, Leo Suenens. Perhaps they had Sheen come and do it to avoid having Suenens, who I suppose as primate would be the normal person to officiate at such royal religious occasions. Or perhaps it was merely friendship for Fulton Sheen. But it is true that Leopold always tried to avoid having any dealings with Suenens.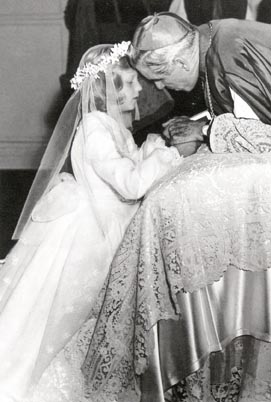 More articles from my blog on the role of religion in the Belgian royal family's history:
http://crossoflaeken.blogspot.com/2010/05/catholic-monarchs-in-secular-state.html
Here is one on Queen (then Princess) Astrid's conversion to Catholicism from Lutheranism:
http://crossoflaeken.blogspot.com/2011/07/conversion-of-queen-astrid.html
Princess Astrid had already been married to Prince Leopold, the heir to the Belgian throne, for nearly four years, and had already born him a daughter, Princess Joséphine-Charlotte. Furthermore, Astrid was eight months pregnant with her eldest son, the future King Baudouin I, who would himself be noted for his devout Catholic faith, most famously, in his conscientious refusal to sign a bill legalizing abortion in Belgium in 1990. Above, we see Queen Astrid, in the company of her husband, King Leopold III, four years after her conversion, kneeling to Cardinal van Roey, Primate of Belgium, at a musical event held on October 9, 1934, at the Cathédrale St. Rombaut, in Malines. The Cardinal authored an account of Astrid's marriage and conversion, entitled, suitably enough, Le mariage et la conversion de la Reine Astrid (1930).

A detailed account of Astrid's marriage and conversion may also be found in the excellent collective work, Astrid 1905-1935, (2005), edited by Christian Koninckx. It is not my intention today to describe all the vicissitudes of the negotiations between the Vatican, the Archbishop of Malines, Cardinal van Roey, the Archbishop of Uppsala, Nathan Söderblom, and the royal courts of Belgium and Sweden prior to the union of Leopold and Astrid, but suffice it to say that it was a highly sensitive, delicate diplomatic matter for all parties. Initially displeased at the prospect of a Catholic prince marrying a Protestant princess, Pope Pius XI eventually granted permission for the wedding to take place, on condition that Leopold and Astrid sign a sworn undertaking to raise their children in the Catholic faith, and that Astrid likewise promise, on oath, not to prevent her husband or children from practicing their religion. As a conciliating gesture towards the Swedes, the Belgian sovereigns had wondered if the Vatican might allow a double religious wedding, a Lutheran ceremony preceded or followed by a Catholic ceremony, but the Catholic authorities refused to permit any such compromise. Only a strictly, emphatically civil marriage in Stockholm, an anomaly in Sweden at the time, was permitted, followed by a religious marriage in Brussels a week later. Furthermore, the religious ceremony was a relatively brief one, since no nuptial Mass took place, in accord with the ecclesiastical regulations regarding mixed marriages.

Oh, and how could I forget.
  The Belgian court's gift to Pius IX in dark times:
http://belgieroyalist.blogspot.com/2010/12/belgian-tiara.html
By tradition Belgium has always been a Catholic country but in those days (1860-1870) religious faith in Belgium was especially strong and the Belgians were, overall, not happy with the Italian liberal-nationalists invading the States of the Church, effectively to depose Pope Pius IX from his position as the local king in Rome. Hundreds of Belgians bravely volunteered for service with the Papal Zouaves, the army of the Pope named after the flamboyant style of their uniforms, grey and red, the style taken from Algerian fashion that was introduced by the French army during their North African service. The first papal military commander and the Belgian Minister of War for the Pope were veterans of service in North Africa and this probably explains why the general dressed his soldiers in Algerian style uniforms. However, as you read in the previous post, the assignment the Pope gave to Bishop Xavier de Merode was really an impossible one (everyone must have known that) and ultimately unsuccessful.

When it was over and the Pope lost his political authority he secluded himself inside the walls of the Vatican in protest. Many Catholic powers tried to show the Pope that they still respected his authority even while political circumstances forced them to come to terms with the new Kingdom of Italy. One of these was the court of King Leopold II of the Belgians. The Ladies of the Royal Court raised funds for the design of a very unique and magnificent papal tiara for Pius IX. This was a way many countries showed support for the authority of the pope, by sending him a new crown. The "Ladies of the Royal Court of the King of the Belgians" (then Leopold II) presented the crown to the Pope on June 18, 1871. The crown, often known as the "Belgian Tiara" was not like any other. It was designed by Jean-Baptiste Bethune of Ghent with a unique shape for the three jewel-encrusted crowns and the tiers decorated with the words, "CHRISTI VICARIO - IN TERRA - REGUM".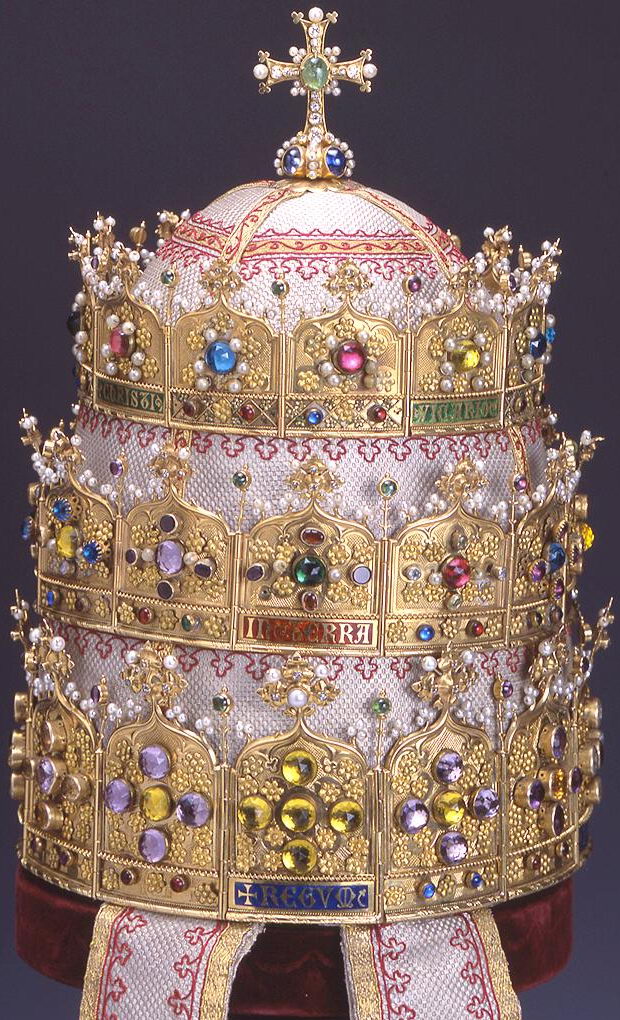 ---
Permissions in this forum:
You
cannot
reply to topics in this forum