Who is online?
In total there are
3
users online :: 0 Registered, 0 Hidden and 3 Guests
None
Most users ever online was
70
on Mon Jul 27, 2015 8:35 pm
Social bookmarking










Bookmark and share the address of Tea at Trianon Forum on your social bookmarking website
Banner art courtesy of
The Graphics Fairy
.

Gareth Russell's two part series is not to be missed.
http://garethrussellcidevant.blogspot.com/2011/01/daughter-of-riches-life-of-eleanor-of.html
http://garethrussellcidevant.blogspot.com/2011/10/woman-out-of-legend-life-of-eleanor-of.html
"Reared with abundance of all delights, you had a taste for luxury and refinement and enjoyed a royal liberty. You lived richly in your own inheritance, you took pleasure in the pastimes of your women, you delighted in the melodies of flute and drum ... You abounded in riches of every kind."

- The poet Richard of Poitiers, writing on Eleanor of Aquitaine (c. 1176)

_________________
Je pardonne à tous mes ennemis le mal qu'ils m'ont fait.
Admin




Posts

: 1165


Join date

: 2011-10-18


Location

: East of the Sun, West of the Moon



My life, when it is written, will read better than it lived. Henry Fitz-Empress, first Plantagenet, a king at twenty-one, the ablest soldier of an able time. He led men well, he cared for justice when he could and ruled, for thirty years, a state as great as Charlemagne's. He married out of love, a woman out of legend. Not in Alexandria, or Rome, or Camelot has there been such a queen....
The Lion in Winter (1968)
Eleanor of Aquitaine (1122-1204) is one of those historical personages about whom there are many wild stories. In Eleanor's case, most of the stories are probably true, although it is highly unlikely that she poisoned her husband's mistress, Fair Rosamund. Fair Rosamund was idealized at Eleanor's expense by later generations, especially the Victorians, for reasons surpassing comprehension. No doubt Rosamund was sweet and lovely, but Eleanor is immensely more interesting, or at least modern people have found her so.
Perhaps part of the contemporary fascination with Eleanor is that she is seen as being a feminist before her time. I doubt that Eleanor saw her actions in terms of being a liberated woman, asserting herself on behalf of the freedom and dignity of women everywhere. Eleanor's motives were usually part of a larger political maneuver which as a queen, a mother and a duchess she found necessary for retaining her power and influence. For a lady of rank, especially rank as exalted as Eleanor's, the loss of power and influence could mean imprisonment or death. Scheming was a matter of expediency; there is no question that she played the game well.
The film
The Lion in Winter
captures the spirit of the tempestuous relationship between Eleanor and her unfaithful husband, Henry II of England, and their perpetual attempts to outwit each other. Alison Weir's biography of Eleanor sifts through the legends and plumbs the truths. Eleanor left Henry after many years and many children, the murder of St. Thomas Becket being the last straw. She returned to France and became the catalyst for the development of the courts of love. Courtly love was not so much about sex as it was about music, Arthurian legend, chivalry, charming repartee, and showing respect for ladies.
Eleanor eventually found herself imprisoned by her husband for making war against him. He would let her rejoin the family at Christmas and Easter. Their daughters were accomplished and lovely; their sons were mostly wretches, and caused no end of trouble. Eleanor was a generous benefactress of the Church and the poor. She retired at last to the abbey of Fontevrault where she made religious vows before she died. A wonderful book for young readers about Queen Eleanor is E.L. Konigsburg's
A Proud Taste for Scarlet and Miniver
.
http://teaattrianon.blogspot.com/2009/06/lion-in-winter-1968.html

_________________
Je pardonne à tous mes ennemis le mal qu'ils m'ont fait.
Admin




Posts

: 1165


Join date

: 2011-10-18


Location

: East of the Sun, West of the Moon



Gareth Russell concludes his series of articles on the life of Eleanor:
http://garethrussellcidevant.blogspot.com/2011/12/lady-of-two-kingdoms-life-of-eleanor-of.html
This is part three in this blog's look at the life of Eleanor of Aquitaine, which is part of the ongoing "Queens of England" series. Part one, "The Daughter of Riches" and part two, "A woman out of legend" are available by clicking on the linked titles.

"Why have I, the Lady of two kingdoms, reached the disgrace of this abominable old age?" - Eleanor of Aquitaine (1192)

The Middle Ages is one of the very few eras in history in which scenes from a fairy tale can come close to reality. One such scene took place at the height of summer in 1189 when a man called William Marshal, later described by the Archbishop of Canterbury as 'the greatest knight who ever lived', strode into the presence of the imprisoned Queen Mother of England and informed her that she was free at last. There was certainly a moment of sublime poetic fulfilment when William Marshal handed Eleanor of Aquitaine her freedom, because over twenty years earlier she had done the same thing for him. Long before he had won his reputation as the greatest jouster of the century and before he had distinguished himself by going on Crusade for a dead prince, Marshal, the youngest son of an unpopular family, had only begun his knightly career when he was captured by French warlords. Impressed by stories of the young man's bravery, and perhaps moved by stories of his family's penury, Eleanor had stepped in and paid the ransom, thus buying Marshal his freedom from captivity. Since that day, Marshal's destiny had been inextricably tied up with Eleanor's own and he had been the most trusted companion of her son, Henry the Young King, who had died six years earlier, begging that Marshal go to the Holy Land for him to atone for his sons. Returned, reinvigorated and already a legend of military prowess in his own lifetime, the forty-two year-old Marshal had won the favour of Prince Richard, now the new king. Set to marry Isabel de Clare, the daughter of the famous Strongbow, conqueror of Ireland, and his wife, Princess Aoife of Leinster, it was Marshal who Richard trusted with the special mission of going to England to free his mother from her gilded prison which she had endured since her children's botched rebellion against their father fifteen years earlier. With her husband's sudden death at Chinon and the accession of her favourite son to the throne, Eleanor of Aquitaine was once again being unleashed upon the world.

But the Eleanor who emerged back into the world in 1189 was a very different one to the woman who had been shut away from it in 1174. Eleanor was now an old woman, particularly by the standards of her day; she was already well into her sixties. Her first husband, Louis VII, had been dead for nearly nine years, having been succeeded by his son from his third marriage, Philip-Augustus (referred to from now on as Philippe, the Gallic form of his name). Three of Eleanor's sons - William, Henry and Geoffrey - had predeceased her and in the same summer as she became a widow, she also lost her daughter, Matilda, Duchess of Saxony and Bavaria, who had died suddenly at the age of thirty-three and been entombed in the gloomy splendour of the cathedral of Saint Blaise and Saint John the Baptist in Brunswick. Eleanor's eldest child, Marie, the child from her first marriage, was now a widow herself, still living in France as the Dowager Countess of Champagne. Her younger sister, Alix, was still Countess of Blois, married to the son of Eleanor's old rival. Of her daughters with Henry, Eleanor was currently living as Queen-consort of Castile, with a large family of her own, and twenty-four year-old Joanna also bore a crown, as wife to the King of Sicily. With all three of their brothers dead, it was Henry and Eleanor's two surviving sons who now mattered the most politically - thirty-two year-old Richard, the new king, and twenty-three year-old John, the heir-apparent.

If Eleanor felt anything at losing the husband who had been her lover, partner, spouse and jailer, she gave very little sign of it. Regrets or looking back are not things that Eleanor of Aquitaine seems to have overly bothered herself with. In any case, in many ways she had the final victory over Henry, not just by outliving him but by having him buried in Fontevrault - her burial ground. A magnificent structure rising splendidly out of the beautiful scenery of the Loire Valley, Fontevrault had been founded in 1100 by Eleanor's grandmother, Philippa of Toulouse, Duchess of the Aquitaine, and formally dedicated to the Virgin Mary. The complex boasted both a monastery and a convent, although in defiance of conventional ecclesiastical practise, Eleanor's family had insisted the convent should always have precedence over the monastery and that the head of Fontevrault as a combined unit should always be an abbess, rather than an abbot. Since becoming Queen of England, Eleanor had spent a fortune expanding and renovating Fontevrault, deliberately crafting its church into what she planned to be the necropolis of the Plantagenet dynasty. And Richard had dutifully honoured his mother's plans by sending his father's body to be buried at Fontevrault (below). After fifteen years in his custody, Eleanor had the satisfaction of knowing that Henry's body would spend all eternity on her land.

Richard had been in France when he heard the news that his father was dead and he was now King of England, Lord of Ireland, Duke of Normandy, Duke of Aquitaine, Duke of Gascony, Count of Anjou, Count of Maine and Count of Nantes. It would take him some time to make the journey back to England for his coronation and in his absence, he showed his trust and love for his mother by giving her the power that both of her husbands had denied her. Freed from captivity, Eleanor was immediately appointed Regent of England and she moved quickly to London to undertake the business of government. And for someone who technically had very little experience of ruling in her own right, Eleanor showed herself to be remarkably good at it in a remarkably short period of time. It leaves the historian wondering what her husbands might have been able to achieve with her at their side, if they had only trusted her enough. The monk and chronicler, Matthew Paris, later wrote that Eleanor's time as Regent after her son's accession made her 'exceedingly respected and beloved' by the people.

Eleanor's political skill in leading the English government during Richard's short absence before the coronation was theoretically a dress rehearsal for a much longer stint in control. Two years before, the Sultan of Egypt and Syria, Ṣalāḥ ad-Dīn Yūsuf ibn Ayyūb, known in the West as "Saladin," had inflicted a terrible defeat and massacre on the Christian orders of the Knights Templar and Knights Hospitaller in the Holy Land. Now, as it had been in the time of Eleanor's first marriage, the Christian Kingdom of Jerusalem was under threat and, with crusading apparently running in his blood, Richard was determined to go East and finish the job his mother's first husband had so spectacularly failed at - he aimed to crush the Islamic caliphates and secure the supremacy of Christianity in the Middle East. He also hoped that in doing so, he would guarantee immortal salvation for his soul and glory for his name.

Richard was back in England by the end of summer and his coronation was carried out with due pomp and ceremony at Westminster Abbey on September 3rd, less than two months after his father's death. However, the coronation was marred by a horrifying outburst of urban anti-Semitism. Deliberately cultivating an image of himself as a pious king, especially on the eve of a Crusade, Richard had banned women and Jews from attending his coronation. Anglo-Jewry at the time occupied a unique, and often troubled, political position in the realm. They were not like the King's Christian subjects, but rather, because of their religion, they were technically his property. Under English law, the monarch all but owned his Jewish subjects in a relationship that was reduced to the most basic premise of feudal sociopolitical theory. The King, as suzerain of Anglo-Jewry, was bound to protect the Jews, his liegemen, but they in turn were entirely dependent on his goodwill and were subject to irregular, and often extortionate, taxes that were levied on them as a community. Surrounded by a sea of virulent anti-Semitism, all too often whipped up by the Church, the Jews, were pathetically grateful for the monarchy's protection. Given what both the Church and the vast majority of the English population would have liked to do to them, it's easy to see why. By the end of the twelfth century, the Jewish community in England had been so harried, bullied and tormented that they looked upon the monarchy's de facto ownership of them with something akin to relief.

Accepting that they were banned from the coronation itself, leaders of the Jewish community in London were nonetheless determined to show their loyalty to the new sovereign by leaving gifts for him at the Abbey door. Seeing the Jews being turned away, the citizens and priests of London either believed (or conveniently chose to believe) that unlike his late father, the new King was not extending his royal protection to the Jews. Feeling that this gave them a carte blanche to do whatever they liked, the Londoners unleashed their very worst prejudices and went on a rampage. Jews were beaten, raped, robbed, burned to death; some were dragged to nearby churches and forcibly baptised into the Christian faith. Some ran to the Tower of London, where the Lord Lieutenant, who knew that the royal family's protection still applied, opened the doors to them. But many more were massacred; their homes were burned to the ground, their possessions stolen. Hearing news of the massacre after the coronation banquet, Richard I was livid that his property (for that is surely how he regarded the Jews) had been defiled. Regardless of the humanitarian horror of the coronation massacre, Richard regarded the attack on the Jews of London as an attack on his royal prerogative and he was not pleased. He ordered the leaders of the riot to be publicly executed and issued a royal edict demanding that no-one harm any Jew living in any of his kingdoms. A trace of empathy and compassion was shown in Richard's reaction when he made a kind but politically unwise decision to allow the Jews who had been forcibly baptised by the rioters to convert back to their own faith. The Archbishop of Canterbury was furious, describing Richard's leniency to the surviving Jewish converts as serving the work of the Devil.

Once the drama and tragedy of the coronation was behind them, Eleanor, now her son's closest confidante and adviser, strongly promoted the idea that Richard, thirty-two years-old and still unmarried, should find a wife before going on Crusade. At six foot five in height, muscular, broad-shouldered and, like both of his parents, handsome and charismatic, Richard was not exactly an unattractive bridegroom. Of course, in the realm of European royal matchmaking, personal attractiveness featured so far down the list of priorities that whether a prince was a handsome warrior like Richard or a sweating man-mountain like the honestly-nicknamed Louis the Fat, made almost no difference whatsoever. Thanks to his parents, Richard possessed one of the greatest continental empires of the medieval period and that alone, never mind his impressive reputation or equally impressive good looks, would have made him a valuable catch in the eyes of his fellow European royals. Whether Richard was quite so enthusiastic for his impending nuptials is a matter for debate. It has been suggested by historians like John Harvey (The Plantagenets) and Jean Flori (Richard Coeur de Lion: le roi-chevalier) that Richard I was far more interested in men than he was in women. Evidence regarding Richard I's debated sexuality will be further discussed in this blog's installment on his wife, Queen Berengaria, but suffice to say that whatever his personal inclinations, Richard showed himself prepared to do his duty for England when he and his mother met with a council in Normandy to discuss the royal marriage.
Read the rest:
http://garethrussellcidevant.blogspot.com/2011/12/lady-of-two-kingdoms-life-of-eleanor-of.html

_________________
Because I really did not spy, it is terrible that I cannot defend myself.



Posts

: 201


Join date

: 2011-10-20


Location

: Paris



A formidable lady, Eleanor married King Louis VII of France and King Henry II of England. She was Duchess of Aquitaine in her own right. She was the mother of Richard the Lionhearted and King John, both Kings of England.
Click on the link below to read her story:
http://saintssistersandsluts.com/eleanor-queen-of-france-and-england-and-duchess-of-aquitaine/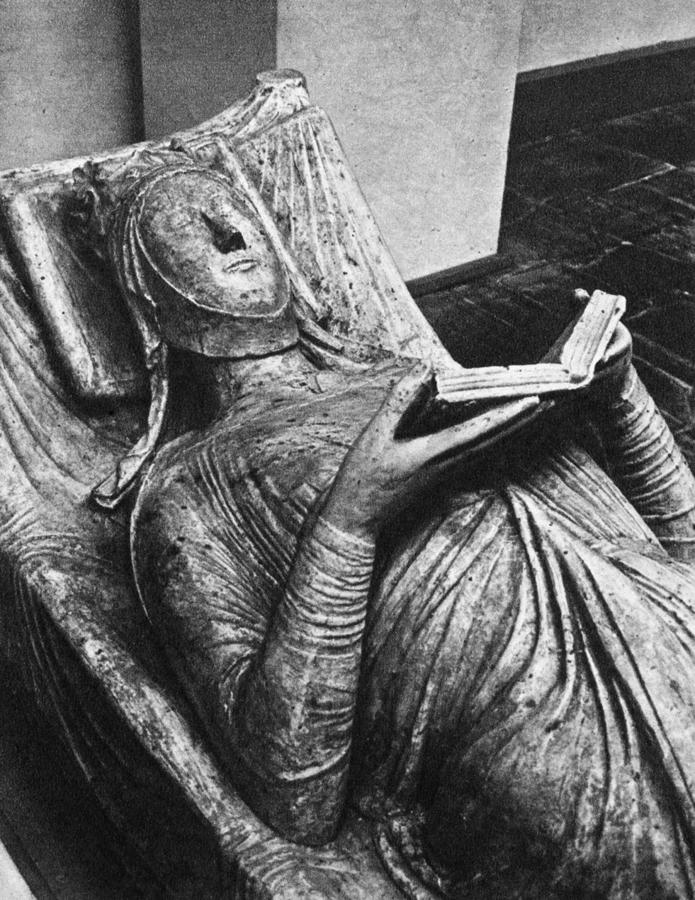 Last edited by Susan Abernethy on Sun Dec 02, 2012 4:07 pm; edited 1 time in total



Posts

: 323


Join date

: 2012-07-01


Age

: 61


Location

: Denver, CO, USA



March 5 was the birthday of her second husband, Henry II.
http://onceiwasacleverboy.blogspot.com/2013/03/the-birth-of-king-henry-ii.html
Like his Norman ancestors and his descendents as Kings he was a zealous defender of the royal authority - that is how his legal reforms or developments should be seen. As has been pointed out in that respect the nineteenth century tendency to see him as an almost Gladstonian figure is anachronistic - King Henry was a man of the twelfth century through and through.

By combining his own paternal and maternal inheritance with that of his wife, Eleanor of Aquitaine, he created not only the so called Angevin Empire - and however he envisaged its future management after his own lifetime - but extended it with his grant and conquest of Ireland and assertion of overlordship of Scotland. Thereby he laid down, or re-emphasised, the dominant themes of English royal foreign policy for centuries to come.

An energetic man with the habit of dashing across his teritories he appears to have had little time ( in either sense) for the ceremonialof kingship, dispensing with the thrice yearly Crown-wearings of his ancestors for example. Given the absence of his successor King Richard I from England for most of his reign it was not until the time of King John and his son King Henry III that the country saw much of ceremonious ritual kingship.

There is plenty of evidence for the fact that King Henry II had a temper - most famously in the story of the death of St Thomas of Canterbury. The King's reputation may well have been one he encouraged - I suspect the more extreme stories, such as him whilst still in bed tearing up letters that angered him, followed by then ripping up the the coverlet and finally throwing himself on the floor and chewing the rushes were either stories deliberately circulated to create the appropriate impression or staged by the King for the same reason.

_________________
Because I really did not spy, it is terrible that I cannot defend myself.



Posts

: 201


Join date

: 2011-10-20


Location

: Paris




---
Permissions in this forum:
You
cannot
reply to topics in this forum