Who is online?
In total there are
2
users online :: 0 Registered, 0 Hidden and 2 Guests
None
Most users ever online was
70
on Mon Jul 27, 2015 8:35 pm
Social bookmarking


Bookmark and share the address of Tea at Trianon Forum on your social bookmarking website
Banner art courtesy of
The Graphics Fairy
.
Page 2 of 2 •
1, 2
First topic message reminder :
OK, I hope this topic doesn't start any flame wars or attract any nasty comments onto the forum.
 Elena, I hope you can post links to some of your Tea at Trianon articles on Pius XII.
A biography from 1945:
http://archive.org/details/lifeofpopepiusxi006759mbp
---
In addition, the well-known Italian mystic,  Padre Pio of Pietrelcina,  who was very devoted to Pius XII,  and who even offered his own life to God in exchange for the Pope's recovery during the latter's earlier illness in 1954,  had a vision of him in Heaven on the morning of his death, October 9, 1958.  Apparently Elena Rossignani, the niece of Pius XII, was told by Padre Pio that he had been awakened during the early hours of October 9 by a tapping on the window of his cell, caused by a little white bird. This was followed by a vision of the Pope's death and ascent to heaven. Padre Pio was nonetheless very upset and moved by the vision and roused his fellow friars to pray for Pius XII. Afterwards, while saying Mass, Padre Pio had another vision of Pius XII in heaven. This is discussed in a diary entry of Padre Pio's spiritual director, and also in a letter from one of Padre Pio's fellow friars to Pius XII's assistant, Sister Pascalina Lehnert.
http://www.piododicesimo.com/padrepio.html
More pictures: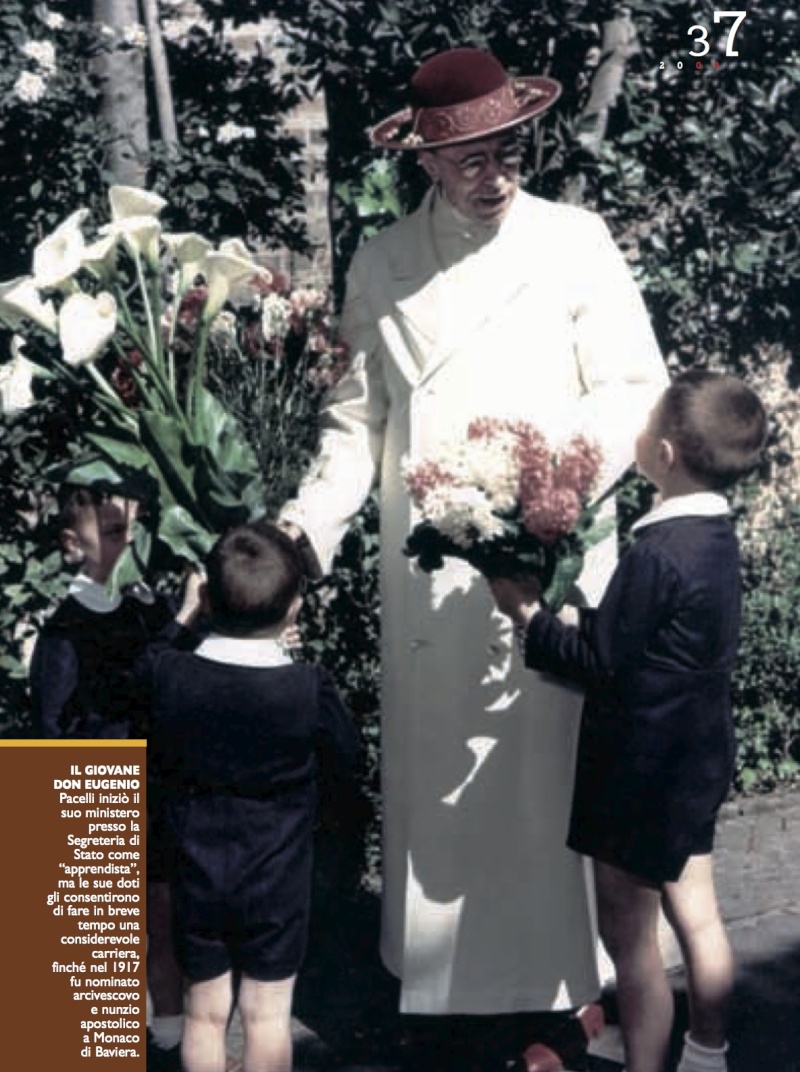 Coat of arms of Pius XII: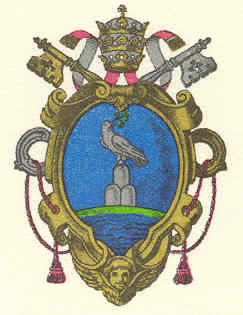 Here is the "Ode On the Death of Pius the Twelfth" by the Australian poet A.D. Hope.
http://www.staustinreview.com/ink_desk/archives/defending_pius_xii
To every season its proper act of joy,
 To every age its natural mode of grace,
 Each vision its hour, each talent we employ
         Its destined time and place.
 I was at Amherst when this great pope died;
 The northern year was wearing towards the cold;
 The ancient trees were in their autumn pride
          Of russet, flame and gold.
 Amherst in Massachusetts in the Fall:
 I ranged the college campus to admire
 Maple and beech, poplar and ash in all
          Their panoply of fire.
 Something that since a child I longed to see,
 This miracle of the other hemisphere:
 Whole forests in their annual ecstasty
          Waked by the dying year.
 Not budding Spring, not Summer's green parade
 Clothed in such glory these resplendant trees;
 The lilies of the field were not arrayed
           In riches such as these.
 Nature evolves their colours as a call,
 A lure which serves to fertilise the seed;
 How strange then that the splendour of the Fall
          Should serve no natural need
 And, having no end in nature, yet can yield
 Such exquisite natural pleasure to the eye!
 Who could have guessed in summer's green concealed
           The leaf's resolve to die?
 Yet from the first spring shoots through all the year,
 Masked in the chlorophyll's intenser green,
 The feast of crimson was already there,
           These yellows blazed unseen.
 Now in the bright October sun the clear
 Translucent colours trembled overhead
 And as I walked, a voice I chanced to hear
          Announced: The Pope is dead!
 A human voice, yet there the place became
 Bethel: each bough with pentecost was crowned;
 The great trunks rapt in unconsuming flame
           Stood as on holy ground.
 I thought of this old man whose life was past,
 Who in himself and his great office stood
 Against the secular tempest as a vast
           Oak spans the underwood;
 Who in the age of Armageddon found
 A voice that caused all men to hear it plain,
 The blood of Abel crying from the ground
           To stay the hand of Cain;
 Who found from that great task small time to spare:
 - For him and for mankind the hour was late -
 So much to snatch, to save, so much to bear
          That Mary's part must wait,
 Until in his last years the change began:
 A strange illumination of the heart,
 Voices and visions such as mark the man
          Chosen and set apart.
 His death, they said, was slow, grotesque and hard,
 Yet in that gross decay, until the end
 Untroubled in his joy, he saw the Word
          Made spirit and ascend.
 Those glorious woods and that triumphant death
 Prompted me there to join their mysteries:
 This Brother Albert, this great oak of faith,
          Those fire-enchanted trees.
 Seven years have passed, and still, at times I ask
 Whether in man, as in those plants, may be
 A splendour, which his human virtues mask,
          Not given to us to see?
 If to some lives at least comes a stage
 When, all active man now left behind,
 They enter on the treasure of old age,
          This autumn of the mind.
 Then, while the heart stands still, beyond desire
 The dying animal knows a strange serene:
 Emerging in its ecstasy of fire
          The burning soul is seen.
 Who sees it? Since old age appears to men
 Senility, decreptitude, disease,
 What Spirit walks among us, past our ken,
          As we among these trees,
 Whose unknown nature, blessed with keener sense
 Catches its breath in wonder at the sight
 And feels its being flood with that immense
          Epiphany of light?
Page 2 of 2 •
1, 2
---
Permissions in this forum:
You
cannot
reply to topics in this forum